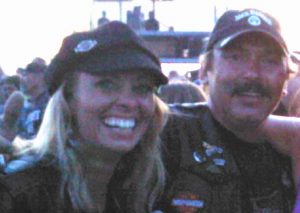 Welcome to RidersInfo!  I hope you find the site useful and entertaining! 
I ride a 2009 Harley-Davidson Sportster 1200C and my husband rides a 1995 Harley-Davidson Heritage Softail Classic.  We ride our motorcycles all over this beautiful country. It is absolutely amazing to explore our country on our motorcycles!
If you have read our Sturgis stories, then you have a glimpse of info on my Dad and my background.  I know how fortunate I am to be raised by motorcycle riding parents.  I was given access to a priceless amount of knowledge from Dad and Mom on all aspects of riding, from actual riding, bike repair, maintenance,  to what gear I should have.
It wasn't until we were talking about our '06 Sturgis trip with another rider that it hit me, not everyone was raised by a biker, and not everyone riding has the experience or connections with other riders.  There were several parts of the conversation when that rider said "I didn't know about that?"
And from that came RidersInfo!  I started this website  with the intent to provide riders, either new or veteran riders, with information about riding that maybe some of us take for granted.
RidersInfo has GROWN tremendously since the very beginning in 2010 and continues to grow, adding new resources and information constantly.  We are currently ranked #1 on Google, Bing, and other search engines for many things, including Packing for Sturgis, and Getting your motorcycle ready for a road trip.  The feedback from the riding community has been AWESOME and I greatly appreciate everyone who has taken the time to comment to me about Ridersinfo. Thank You!!
When I started this website in 2010, YouTube wasn't really a thing, not in my world anyway. My how-to tips were not filmed for YouTube. I am eventually going to convert the how-to tips to film and will be filming future how-to tips for the purpose of YouTube. 
Be sure to like us on Facebook and follow us on Twitter, there are times I post random comments about things of interest.  I am making a conscious effort to increase the post without being a nuisance!                       
Thank you for visiting!  I hope you enjoy the site and ride safe!
Pam